Jordi's Journey
January 25, 2013 - Check In
Palooka's and I Promise Performance Inc. (IPPI) have embarked on an exciting journey with Jordi Morgan from Rogers News 95.7. Jordi wants to get back in shape and we're taking him there.
Since April 1, 2012, Jordi has been training at Palooka's with the talented personal trainers from IPPI. Between our state-of-the-art facility and IPPI's dedicated training, Jordi is seeing changes and feeling better already.
Check back to this site often to follow Jordi's Journey with regular blog posts from Jordi chronicling the trials and tribulations of personal training, nutrition changes, the aging body and more.
Listen to News 95.7 to her first hand how Jordi is making out with his lifestyle change.
September 21, 2012 - ...six months in
Halfway there...almost.
The end of September will mark six months of trying to turn my flabby, 54 year old frame into something I can work with again.
Since I last posted about my little journey, I've been diligently doing what I've been told. One realization I have arrived at has to do with the amount of time allotted the success of this program.
I've tried various diets and exercise programs in the past. Most of them promise remarkable results in a month, six weeks, 90 days, whatever.
I think the most important key to the success of this thing is allowing enough time to see the work payoff. Theodore Roosevelt said "Nothing in the world is worth having or worth doing unless it means effort, pain, difficulty...".
In terms of a fitness plan, I have always looked for something that could be done in whatever spare time I had or over a period that I would immediately begin to see results. Some have had more success than others, but the return to the previous state of being was pretty rapid. If I could do it once, I could do it again...kind of like quitting smoking. It's easy, I've done it hundreds of times.
This process has been something else. It has required commitment, accountability and the willingness to take a long term approach.
We decided we would do this over the course of one year. For some that may seem like a long time. As I get older however the years seem to rush by ever more quickly.
So here I am after six months. You can judge for yourself how it is working. It's the result of hard work, attention to my diet, commitment to my training schedule and skillful guidance from a wonderful team of people.
A sincere thank you to everyone who has sent a note of encouragement on our Facebook page, via Twitter or email. It means so much. If someone you care about is trying to turn their health around and get fit, quit smoking or lose weight, make sure you acknowledge their efforts. It takes time, and effort and belief...and you are a big part of the equation.
I have to thank Sara Flynn and Colin MacDonald and their excellent team at Palooka's Executive Fitness in Bedford. Huge thanks as well to I Promise Performance; Dr. Jeremy Koenig, Karen Furneaux, trainer Simon (Says) Watts, nutritionist Stephanie McWilliams and the always ebullient Alicia Dobranowski. Without their skill, enthusiasm and support this little project would not have been possible. Thanks folks, you're out there saving lives.
April - June - July - September
July 14, 2012 -

I'm ready to start "training"
It's been a little more than three months since I began this program and last week my personal trainer, Simon the Inquisitor, noted that I'm ready to start training. Apparently the sweating, grunting and stretching up to this point was only a harbinger of things to come.


Jeremy Koenig, the master-mind behind the retooling of my physique, has been working to get me in sufficiently healthy condition to actually start the real stuff. Apparently we are there.



Last week we took another set of measurements and pictures to determine the outward signs of progress. Most of the real progress however is probably invisible to the casual observer. I've been splitting my workouts between the sessions with Simon and a series of workouts focusing on interval training on a bike and mobility excercises.



There are a couple of important results from the past months work that don't show up on the measuring tape and in the photos.
The first is the improvement in my core strength. We've spent the past month focusing on the muscles that extend from the middle of my back, down through my glutes and hamstrings. Strengthening these muscles has had a dramatic effect on my posture and my ability to do other excercises necessary for the next phase of training at Palooka's in Bedford.


The other result is improved heart rate recovery. When I started this I was able to push my heart rate to 155 bpm with strenuous warm-up exercises and it would take a full 2 mins or so to slow it to 115-120. Now my warm up will push my heart rate close to 170 and it takes only 90 seconds or so to get it back down under 110. It's a measurable improvement in my body's ability to respond to the stress of physical activity.
I did have a couple of small set backs when I strained a rotator cuff at the driving range and had a minor pull of a hip flexor during lunges but both of those minor injuries have healed and I'm back on track. It's amazing how a program like this makes you so much more aware of the state of all the moving parts making up the machine that is your body.
One of the keys to all of this has been the focus Jeremy and Simon have put on recovery. Rest. Simon refers to sleep as "the poor man's steroids". It's almost counter-intuitive to everything you believe about training. Conventional thinking has it the harder you work, the greater your level of accomplishment. That may be true but at the same time it's critical to give your body the nutrition to feed its development and the opportunity to heal to achieve the best results. Yes I'm working hard in the gym, but I'm also ensuring I'm eating well and getting enough rest.
Overall I'm feeling great. I'm on track with weight loss and hope to be at the 200 lb mark with a body fat percentage in the 27-30% range by the end of September. The goal for next April in a body fat percentage below 20% and my weight in the 190 lb range. I might not be ready for Magic Mike 2, but at that point, I'll be able to keep up with my 12 year old on the basketball court.
May 31, 2012- Two month check in



Jordi's Journey – Anthropometric Data

Starting Stats

Measurements

April 1, 2012

May 3,2012

May 31, 2012

Age

53

Upper Arm (cm)

38.0

39.5

38

Height (inches)

72"

Waist (cm)

108.0

103.5

102

Hip (cm)

110.5

107.0

105

Chest (cm)

116.0

114.0

113

Thigh (cm)

60.5

57.10

57

Calf (cm)

43.0

43.8

42.5

Body Mass (lbs)

226

218

214

Body Fat (%)

37

---

33
May 23rd, 2012- My butt hurts
There are a few statements that will invariably silence a murmuring room. "My butt hurts" is one of them. Why is it that whenever someone at the gym asks how my workout program is going, my response is always at the point when the room suddenly goes silent? The words hang in the air like EF Hutton. (Students of 1970s television commercials will understand the reference). I only mention this because it's happened several times.
Then I have to explain that the pain is the result of my treadmill warm-ups, anerobic bike workouts and glute exercises...NOT overdoing the weekend partying or experiencing the after effects of a late night extra spicy donair. Aside from embarrassing comments, I've been spending a lot more time being aware of my painful posterior.
As a culture we spend far to much time on our respective backsides. Think about the amount of time you spend sitting during a day. When I began this process, my iPromise nutritionist, Stephanie, gave me a little homework. Part of the process was to divide my time up during the day. Hours spent sleeping, hours spent sitting, hours spent vigorously exercising and hours spent doing light activity. Try it. You'll be amazed at how much time you spend plunked down on your derrière.
Our lives are remarkably sedentary. If it doesn't outright kill you, sitting on your duff will beat the hell out of your fitness. Posture suffers, flexibility deteriorates, muscle atrophies and your body's ability to work is constantly being compromised. A study in the journal Medicine & Science in Sports & Exercise examining the lifestyles of more than 17,000 men and women over 13 years found those who sit for most of the day were 54% more likely to die of heart attacks. According to Men's Health that holds up even if the people were non-smokers and regular exercisers. Sitting will kill you...and if that doesn't make you get moving, it makes your bum squishy.
Being run off your feet all day is better for you than sitting at a desk allowing the sand of your health to drain into the bottom of the hour glass.
Your glutes are not just something for potential sex partners to think about bouncing quarters off. They act as an extremely important part of your strength and posture and by extension your overall health. Tighten up that ass and you are well on way to a better life.
I was initially a bit puzzled by my trainer's fixation on better glute tone, but the benefits have quickly become apparent. Because glutes are such big, powerful muscles they act as a foundation for all of your lower body movement. Or at least they should. My poor glute tone was exacerbated by the arthritis in my hips and the fusion of two discs in my lower back. Without any muscular strength in my butt and with restricted motion because of skeletal deterioration my ability to move became severely restricted.
From the outset we've been working on mobility exercises and lower body strength training. It's not easy. 35 years of bad habits don't reverse right away. My chiropractor Dr. Brian Seaman is continuing his treatment on my hips and the walking and exercises is building muscle tone. It's only the beginning but I can't say enough about how the glute activation is helping my overall fitness. My posture is better, I have much more strength in my legs for cycling and walking and there is the added benefit that my jeans fit much better.
Something else I discovered this week. My butt issues may also have something to do with sitting on my wallet (It's not because it's full of money). I know this may seem obvious, but men should take a moment to determine if sitting on their wallet is affecting their health. The additional muscle in my butt means sitting on my wallet has become increasingly uncomfortable as there isn't the squishy pillow to absorb the lump. You'd be amazed how much better you'll feel after getting the inch thick slab out of your back pocket. As well, I don't know if it will change, but after looking at the photographs on the Palooka's website I notice a distinct list to the right. I don't mean politically, I PHYSICALLY lean to the right.
There are a variety of good exercises to engage your glutes. Find one that activates your glutes without straining your lower back. I've been doing a reverse hyper-extension that Jeremy has used to help Sidney Crosby develop one of the most powerful lower body foundations in hockey. Believe it or not, there is even a Facebook page dedicated to Sidney Cosby's butt.
I suppose the moral of the story is sometimes a pain in the ass can be a very good thing.
May 3rd, 2012 - One month check in
Jordi's Journey – Anthropometric Data
May 1st, 2012 - May Day
Not being known as a particularly avid enthusiast for the labour movement, let me at least acknowledge those who have toiled and made sacrifices to make lives better for others. The honest struggle against any perceived evil is honourable. My issue with big labour is there often is a far too fuzzy demarcation between good and evil...but enough political prattle.
I just posted a picture of my first and last running race. As I mentioned in my last post, the good doctors Koenig and Seaman have thoroughly convinced me of the dangers of a 53-year-old geezer with arthritic hips attempting to break land speed records in the 5k. After going through the X-rays, the assessment, the appropriate poking and prodding a consensus was derived that I would not pursue my "dream" of Running in the Bluenose 5 k race. I should point out I only officially arrived at that "dream" a week earlier so while disappointed, it's not like I was kicked out of med school.
So what now? Without the delightful prospect of pounding around Lake Banook every second day, what ever shall I do? I need to come up with an alternate fitness activity. We've come up with a few suggestions including swimming, hiking (walking is fine, running is verboten), bicycling, cross-country skiing (which translates into the elliptical machine for the next 8 months), rock climbing and...well that's it. So I'm entertaining all suggestions. All I ask is it is not an activity that you can do while smoking or drinking (golf, curling, darts) and it requires a minimum investment in equipment or first aid supplies.
The good news is it appears my hips are actually still semi-operational. Yesterday I had my first chiropractic treatment and the result was amazing. Rediscovering the little joys of bending over and tying your shoes without dreading the trip down and up again is very refreshing. In fact, this morning on the way to the Jeep I actually found myself doing a bit of the Pee Wee Herman Tequila dance on the way through the garage.
http://www.youtube.com/watch?v=UVKsd8z6scw
It's not exactly the Viagra ad, but we're making progress.
Thursday is the one-month measurement and test. On Monday I'll reveal the new progress picture. I'm not supposed to be on the scales but I took a peek today and I was at 217. That's down 9 pounds from April 1st and 13 pounds from the middle of March when I started my ill fated running career.
Next week on the Maritime Morning, Stephanie McWilliams, our fabulous nutritionist will be joining me on the air, along with Sarah from Palooka's Executive Fitness, to talk about how the program is going. If you have any questions about food choices, if you are trying to lose weight, train for some event or if you'd like some guidance around food fads, tune in, call in, send an email, tweet or fire something on our Facebook page.
I'm sure the new picture of me won't be as graphically disturbing as the last...well pretty sure.
- Jordi
April 24, 2012 -
Battle scars:
Personal trainers ain't what they used to be. No longer are you being sold aerobics sessions by Flashdance era lotharios sporting a mullet,fake-bake tan, two-size-too-small Adidas grapesmugglers and a tank-top.
Fitness consulting has moved into the realm of professional development. Having the I Promise folks working with the Palooka's facility is providing me with the kind of guidance usually only available to professional athletes. The point of this exercise, pardon the obvious pun, is to show what can be accomplished by a broken down geezer like me given the right tools and coaching.
Jeremy Koenig has impressive credentials. He received his PhD in Biochemistry and Molecular Biology at Dal and went on to do post doctoral research at Cornell. He trains some very high profile athletes. In the past week or so we've been focusing on mobility issues. While I've made some great progress it's clear I have some problems and if I want to reach my goal of having a super-hero body by this time next year, he's got his work cut out for him.
Today, on Jeremy's recommendation, I made a visit to Dr. Brian Seaman for an assessment. Brian is a chiropractor and has also worked with some of Canada's finest athletes as well as a member of our Olympic team. I've been dealing with pain issues in my legs and lower back which I suspect is not unusual for someone launching themselves at age 53 into a workout and running program. I had a motorcycle accident when I was 21 that resulted in two fractured vertebrae and a compressed disc in my lower back. Around 1995 I had arthroscopic surgery on a torn meniscus in my knee. The battle scars of living feel like they're finally beginning to catch up with me.
After some poking, prodding and manipulation, he sent me off to the Dixon centre for some X-Rays to determine the extent of my geezerhood. Amazingly, I dropped into the X-Ray unit and was out of there with a CD of pictures within an hour. I dropped it off to Brian's office and will await the verdict in the next few days. It will be interesting to see how much, if any, of my body will need replacement parts. I started looking on Kijiji tonight.
On the phone with Jeremy today he said not to let anyone use the term "degenerative". (Degenerate yes, degenerative no) My concern is there may be some arthritis setting into some of my joints as the result of these past incidents and an atrocious lack of attention to my health. I still have an unwavering faith however in my body's ability to rebound. It just may take a lot more thought...and a lot more work.
While some of this is a tad worrisome, it's important to view whatever comes out of this diagnostic process as a step forward not a step back. The benefit of having a team leader that knows what he's doing is being able to proceed. The talks Jeremy and I have had about this have been as beneficial as any of the exercises. Much of the success of this project depends on creating realistic measurable goals and taking ownership of the process. Knowing the real condition of my body is an extremely important piece of this puzzle.
- Jordi
April 15, 2012 - The Lung Run
The Lung Run
"I used to hurry a lot, I used to worry a lot...used to hang out til the break of day" - The Eagles - The Long Run
Now I find myself in an epsom salts bath on a Friday night listening to Holger Peterson on the CBC, drinking Chai tea and wondering how I got here. It's ECMA weekend! So the beer has been relegated back to the shelf in the liquor store and I spent the past few day thinking about how I'm going to make it through my first 5k run.
The training seems to be in place. For real runners, those people you see dutifully pounding the pavement in freezing rain and slush, 5k is something they do before breakfast. For me it's the first test of the work I've been doing to drag my fitness level back from the edge of the middle-age abyss. It's been 5 weeks of training.
Michelle, my effervescent running coach, set a goal of 35 minutes. The gazelle-like creatures from the university track clubs who will win this race have a finishing time of somewhere around 15 minutes. Those who chose to walk or casually push their future runners in a stroller will cross the line in an hour or so. So I'm shooting for middle-of-the-pack...ish.
I arrive a full two hours early so my daughter Maris can chow down on a raspberry waffle and watch the very weird puppet show on the main steps of the Halifax Seaport market. She's fully 15 years old and the puppets operated by the dude in the grim reaper outfit were strange enough that she seemed ready to cry like a toddler. I satisfied myself with a bowl of OK Asian vegetables and another Chai tea. I need to get out of here before I'm convinced of the need to buy a Volvo.
After picking up my snappy synthetic racing jersey and a number to pin across my stomach, I was directed to get my "chip". This is an ankle bracelet runners wear so a computer can record the time they cross the start and finish lines. For the uninitiated it's pretty slick.
After changing into a pair of Reebok shorts I picked up a Frenchy's and my snappy 50% off Saucony running shoes I milled around with the other members of the Heart and Sole running Club. I was instructed by uber-trainer Jeremy to do some stretching and"mobility exercises" before the race. (Note to self: Fifty-three year old men should never do hip rotations while hanging onto a pole in public view.) I feel like John Cleese in the Ministry of Silly Walks.
http://www.youtube.com/watch?v=IqhlQfXUk7w
When coach Michelle arrived, we all posed for a team picture and after watching the kids race, eventually headed toward the start finish line for a light warm up. Following a short-lived inexplicable confusion around where the start would be, the horn sounded and off we went into the breezy, sunny afternoon on the waterfront.
We planned to run at a pace of 1 kilometer every 7 minutes. It was a comfortable pace and would result in an overall time of 35 minutes. The course was mercifully flat. Hills seem to be the curse of the running class (unbeknownst to most runners, actually running tights are the curse of the running class, but I digress). A few minutes into the run I determined my secondary goal would be to overtake the four lifeguards ahead of me running with the stretcher carrying a dummy. It seemed like a reasonable goal until I noticed they were, in fact, running much faster than I was.
My coaches' guidance paid off. After a steady and manageable 4 k my coach and pace bunny Michelle said I could finish however I pleased. With whatever little gas I had left in the tank, I put the now slowing lifeguards in my sights and picked up my tempo. After putting the lifeguards in the rear-view by Bishop's Landing, Maris joined in with 500 meters left to go. Running beside me, cheering me on in her snappy pink converse, her refrain of "run, fat boy, run" pushed me toward the finish line. I could hear the strains of Jackson Brown's "Running on Empty" emerge between my wheezing, sucking breaths and I crossed the finish line with a time of 33:42...an average pace of 6:33 per kilometer.
With that familiar metallic blood taste of over exertion in my mouth and a quick fist pump, I walked off the course and basked in the satisfaction of one small achievement. If I can do this...there's hope for us all.
- Jordi
April 12, 2012 -
We're all just walking compensations:
Twelve days into the project and I'm beginning to get a sense of what I'm in for. My trainer Jeremy Koenig, half the brain trust behind I Promise Performance, has been working with me regularly at my Palooka's sessions.
The facility is really very nice. Clean and quiet. I can't help but think more people should be using this facility. Perhaps because I'm there at three in the afternoon I'm hitting a quiet time. In any event it's perfect for our purposes.
The workouts are comprised of some cardio, a few mobility exercises followed by a quick workout involving lower or upper body. The cardio session has been insightful. The purpose is obviously to elevate my heart rate, but we've been taking special care to monitor gradual increases in work load, effect on heart-rate and recovery.
I'm continuing to have pain in my right calf, ham string and butt as a result of an old injury to my left leg. A dozen or so years ago I volunteered to take part in the MS Bike Rally between Sackville and Wolfville as a fundraiser...without any training. The result was a torn meniscus that required surgery and whether I've been aware of it or not, my running gait has been compensating for the injury ever since. You'd think I would have made the connection.
The beauty of having a trainer with the kind of skills Jeremy brings to the table is identifying conditions and finding appropriate exercises and strategies to deal with them. This methodical approach to understanding what is happening with my body serves two very important function. It provides a foundation from which my exercise program can operate and it is giving me an enormous amount of confidence to take ownership of the things I'm doing.
Today before we began our mobility exercises, Jeremy gave an illustration of how minor compensations for pain can have dramatic effects, especially over time, on how your body responds to training. He said, "We're all just walking compensations". It was one of those moments when you hear something and realize the person who said it may have coined something quite profound. Beyond an achy knee or a sore hip, very often we compensate for a great many pains in our life. The secret is to find the source of the pain, recognize the effect it's having on you and then develop or find the expertise to put together a plan and take the right steps to fix it.
It's the first time I've had help with this. It's an incredible resource.
I've been getting some great training from my running coach Michelle Kempton too. This Saturday I'll be in my first race, The Credit Union Atlantic Lung Run for the Heart and Stroke Foundation. I ran my first full 5k on Wednesday so I'm ready to go. It starts at Pier 21 early Saturday afternoon so if your in the neighbourhood come by and say hi. I'll try not to blow a tire...
- Jordi
April 4, 2012 - Reflection and Revelation:
Thanks so much for the words of encouragement following the photos posted on the Palooka's website. You know you may need to do something about your weight when people say, "Wow…it sure took some courage to post those!" There's considerable motivation in having a "before" picture like that on the internet because there is nothing I want more than to replace it with something…anything…else.
So my personal weight loss, muscle building, flexibility gaining exercise and eating program is officially under way. I weigh 224 lbs today and dropping. I'm tracking everything I eat for Stephanie McWilliams, the team's nutrition guru. She did a set of measurements on Sunday and applied the calipers to a few select spots to determine how much of this temple is actually occupied by fat. Writing everything down is a revelation in itself. I've heard it's a good idea to take a picture of everything you eat before you eat it...hmmm.
I'm not going to talk too much about food until I get a better sense of what Stephanie decides is the best path to follow. I'm just hoping she has seen the latest research on eating chocolate being linked to slimmer bodies.
http://www.cbc.ca/news/health/story/2012/03/26/chocolate-slimming.html
Über Trainer Jeremy Koenig put me through a light workout yesterday on the treadmill and then guided me through a few mobility exercises. He said my muscles were a little "scared". Judging by the seeming paralysis I felt in my legs, I think they were actually terrified. Apparently Sidney Crosby does some of these exercises although I suspect he does them with more considerably more flair. Having someone who really knows what they are doing and being confident in their guidance is a great feeling. I also like having homework comprised of drinking lots of water and having a hot Epsom salts bath.
- Jordi
April 2, 2012 - Testing and Training: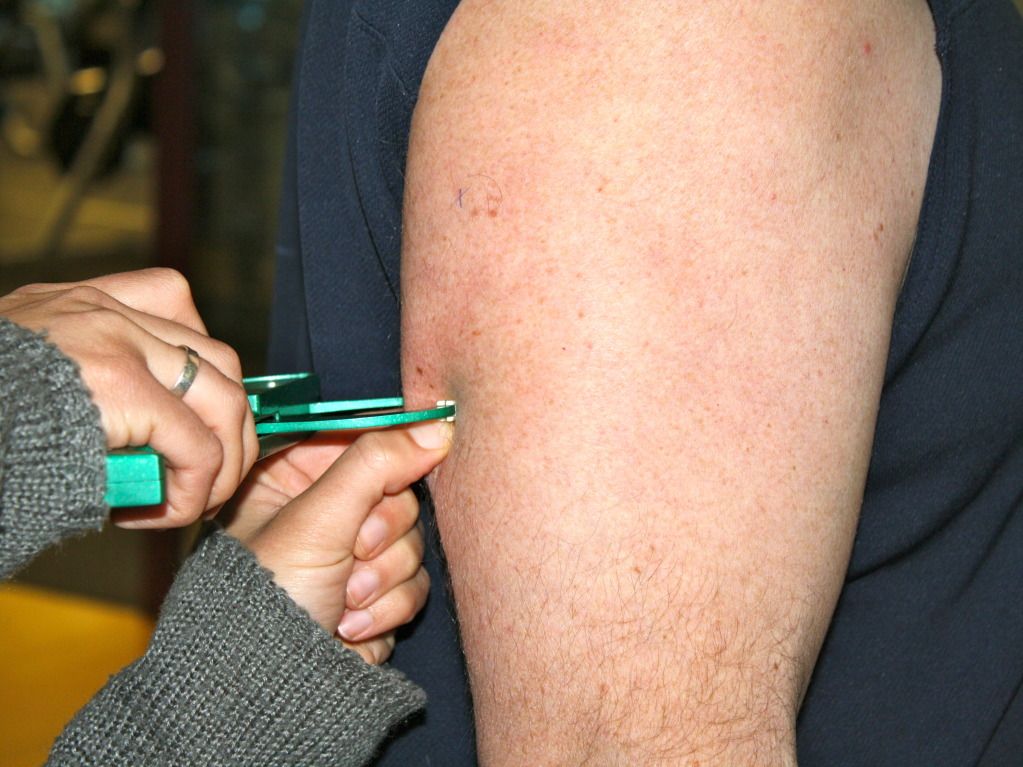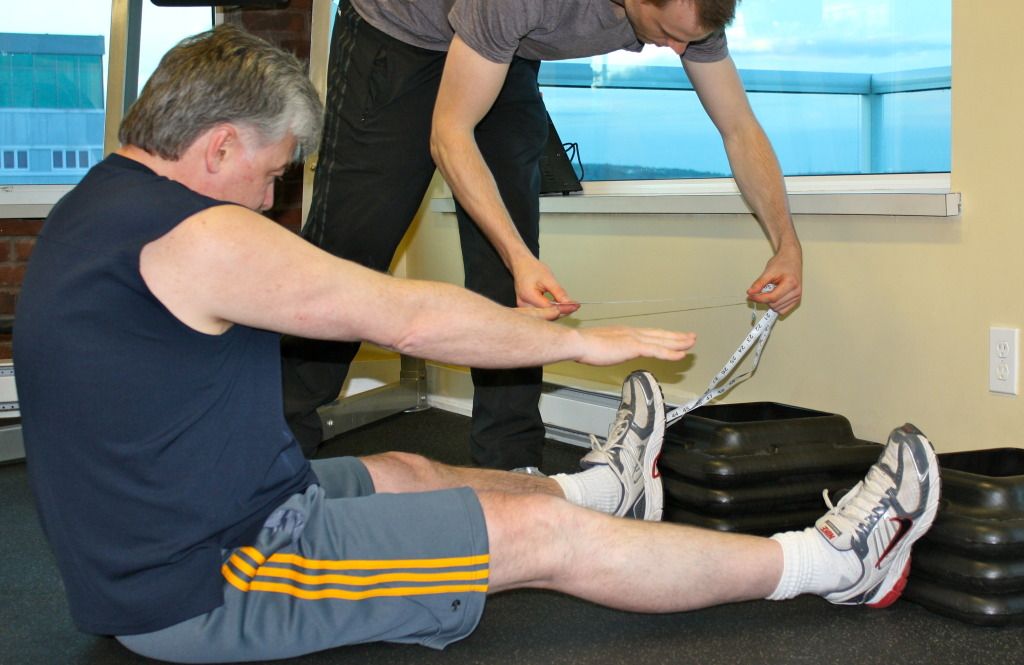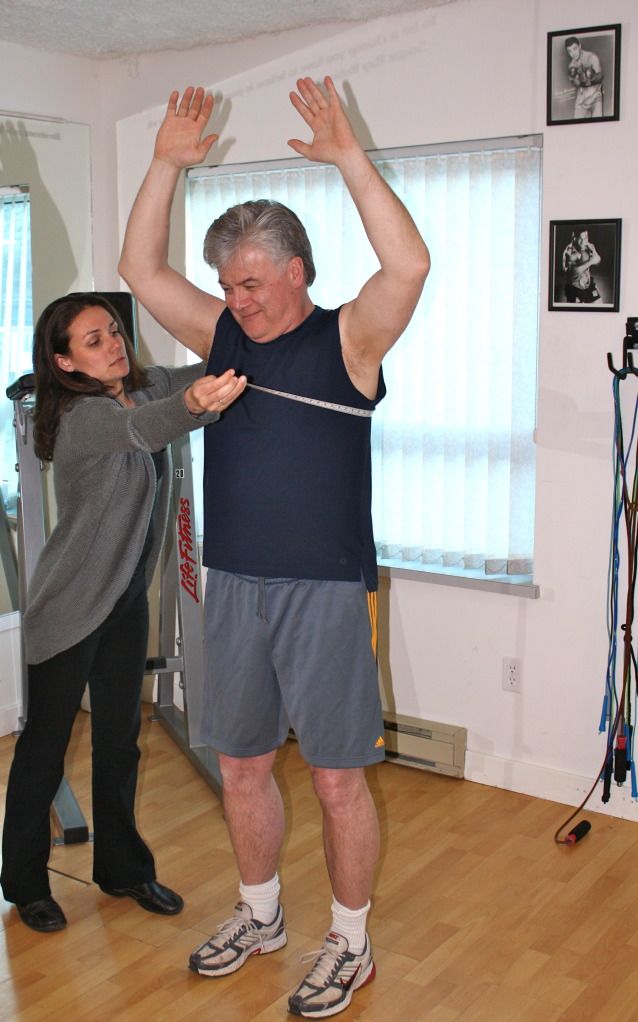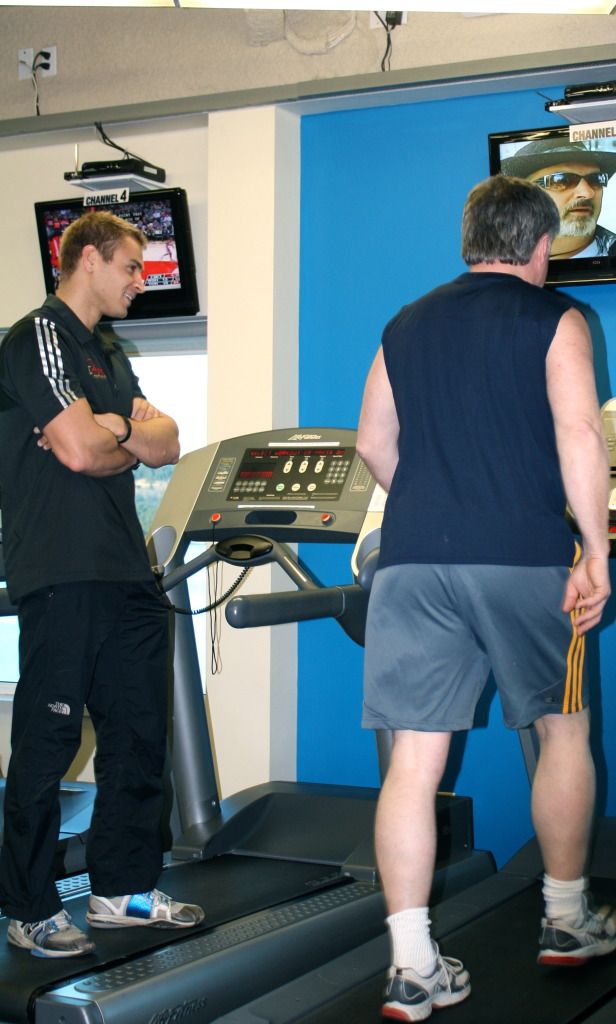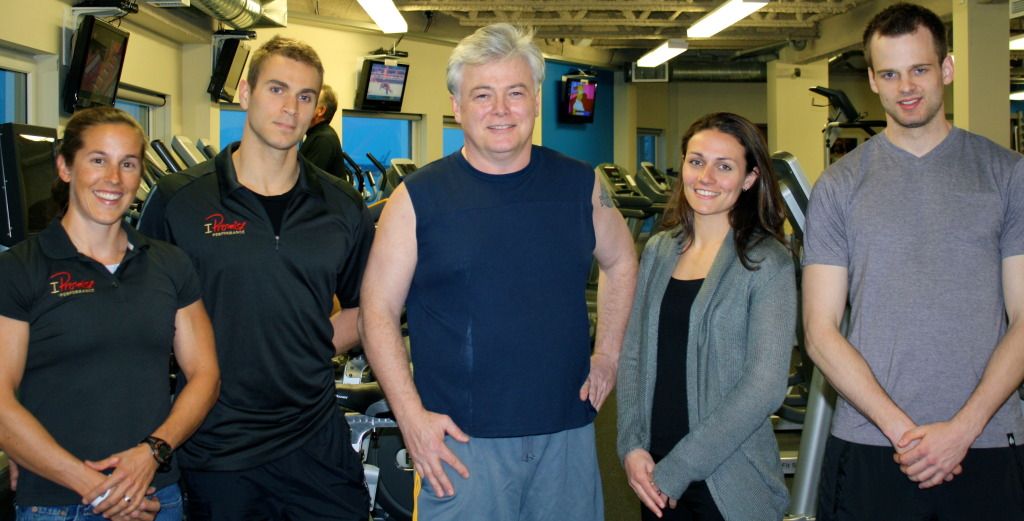 April 1, 2012 - The Weigh In:
A crucial part of the training process is keeping track of progress. Without keeping close watch on key factors such as weight and measurements, it is hard to evaluate the true change associated with a training program. Over the length of the program, we wil be tracking Jordi's progress and updating the table below so that we can all follow along on Jordi's Journey!